Educational Webinar Series
Tired of trading fast markets against computer algorithms and losing?
MEAN REVERSION TRADING
Sponsored by EMA2Trade.com :
Learn how to level the playing field with the Variable Changing Price Momentum Indicator (VC PMI). The VC PMI is a proprietary automated artificial intelligence algorithm, which provides you with specific entry and exit points, as well as where to place stops.
Join us Thursday, February 21 at 9 am or 5 pm (PST) for an exclusive webinar on how to use the VC PMI to trade stock indices, specifically the E-mini S&P 500 (ES) with 90% to 95% probabilities.
Space is limited, so register now.
You have nothing to lose, but the profits.
and receive your FREE "Mean Reversion Trading" eBook:
Mean Reversion Trading: The VC PMI Automated Algorithm for Trading Stocks, Futures and ETFs

by Patrick MontesDeOca and K. Scot Macdonald, PhD
Start your path to professional trading by giving the  VC PMI  a go!    Learn More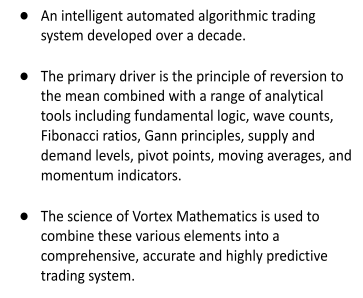 Your email address and personal information will be used by the Webinar organizer to communicate with you about this event and their other services. To review our Privacy Policy or opt out of their other communications, contact us directly.
Safeguarding your email address and Webinar registration information is taken seriously at Ema2Trade.com. We will not sell or rent this information.