Free Joint Webinar:
Monday, April 16, 2018 at 1 pm (PT)
Trading Economic Events and the Variable Changing Price Momentum Indicator
A joint webinar by BetterTrader and the Equity Management Academy (EMA) featuring two trading experts:
Eyol Mor: CEO of BetterTrader with eight years of trading experience with top firms and an expert in macro-economic event trading.

Patrick MontesDeOca: CEO of the EMA with more than 30 years of trading experience, creator of the MCTS Markets Commentary, an advanced automated and technically oriented market letter published daily in Consensus Magazine since 2003, and a regular contributor to Seeking Alpha, Trader Planet and Investing.com.
Learn to use BetterTrader's fundamental application based on economic data to trade the market, as well how to use the VC PMI to identify price levels to execute precise trades.
Register Now and receive two free eBooks:
Mean Reversion Trading: The VC PMI Automated Algorithm for Trading Stocks, Futures and ETFs

by Patrick MontesDeOca and K. Scot Macdonald, PhD

The Essential Guide to Trading Economic Events

by Eyol Mor
This is not an "easy" money webinar. Mor and MontesDeOca will start you on the road to learning how to trade the markets using major economic events and the VC PMI—an artificial intelligence (AI) algorithmic trading system.
Trading economic events is based on a three-step process:
Prepare trade ideas before the event

Event occurs

Execute trade idea precisely
The VC PMI is a fully automated AI algorithmic trading system available at TradeStation App Store. The model fund based on the VC PMI was founded in 2012 and was up 183% in 2016 and up 528% in 2017.  You can see every trade the fund has made since inception on the EMA website.
The primary driver of the VC PMI is the principle of reversion to the mean combined with a range of analytical tools including fundamental logic, wave counts, Fibonacci ratios, Gann principles, supply and demand levels, pivot points, moving averages, and momentum indicators. The science of Vortex Mathematics is used to combine these elements into a comprehensive, accurate and highly predictive automated AI trading system.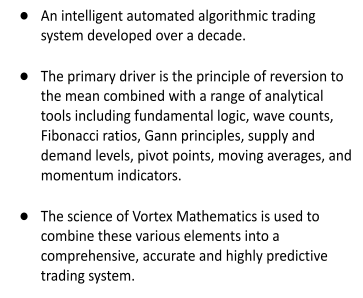 Register Now and start on the road to a successful trading strategy.